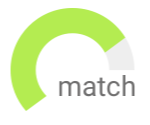 Haven't found the job you are looking for? Use our new smart new Job Match tool to find your next opportunity.
The role will involve building the CRM practice for the organization that has a user base in 180+ countries and working with a globally spread out team. The job will have a leg into Product and Product Marketing as well. This would encompass differentiated strategies for different markets like US, UK, SEA etc.


A global role in a fast-paced startup amining to be a market leader in 3 years
Option to work remotely
Bangalore Urban
Permanent
The candidate would be responsible for forging strategic alliances and partnerships across different industry lines, with the goal of revenue generation
The candidate would work closely with the CXOs and signing authorities of telcos, OTTs, technology platforms, media houses, and OEMs to form strategic and exclusive partnerships
Candidate must be dextrous in forging strategic partnerships with revenue goals
Must have strong CXO connects across Telcos, OEMs, OTTs, etc
Bangalore Urban
Permanent
As a Senior Product Manager, you will own vision, strategy, roadmaps and impact against the goal of building India's largest subscription based audio OTT platform
An opportunity to be a part of growth intensive OTT platform
An opportunity to work closely with some of the best leaders in the industry
Client & Stakeholder Engagement, Business & Project Management, Business Development and Talent Development/Leadership


The client is a leading global communications firm
Partners with businesses to evolve,promote and protect their brands & reputation
Bangalore Urban
Permanent
As a Sr ML Engineer, you will not only coordinate and influence the direction within the team but also work with multiple stakeholders to power different personalization projects across the organisation


Be a part of an exciting audio OTT growth story
Best funded and most far advanced in the space
As the first sales hire, you will lead the revenue growth of the firm in India by closing deals with publishers/advertisers/agencies
You will create a long term growth strategy and also build a sales team pan India in due course to expand the business
Lead the revenue function for the India geography
Drive revenue growth through publishers/advertisers/agencies
Work alongside Category Heads/Managers in detailing the proposition and execution for category specific digital solutioning and understand clients key requirements, and propose digital offerings accordingly.
Opportunity to work in a high growth stage Digital Media brand
Opportunity to manage and work with golden accounts
Ability to convert a complex data set into an actionable recommendation.

Ability to gather market insights for the BFSI vertical including competition analysis, secondary research and business intelligence.
Fast paced organization
National brand in the media space
Plan, Manage and Optimize Brand Visibility across various Digital Platforms.
Strengthen and evolve digital marketing roadmap for products and brands, overall create and implement lead generation campaigns for relevant TG to meet lead targets for organization products and brands.
Opportunity to work in a fast growing firm
Opportunity to work in a renowned brand
As the Head of Content, you will be responsible for scaling of the team and adding to the overall growth of the company.

You must have proficiency in reading, writing and speaking either Tamil, Punjabi or Malayalam.


Opportunity to work for one of a leading digital media/news firm
Opportunity to work in a leadership position
Create job alert to receive Media Agency jobs via email the minute they become available
As the Director of Data Science and Analytics in the social media startup,
You will be responsible for spearheading efforts in using textual analysis via Machine learning & Artificial Intelligence and develop solutions for complex business problems
You will also lead the Data Science and Analytics Team
#Work for the world's leading community management platform
#Opportunity to work with some of the world's largest Fortune 100 companies