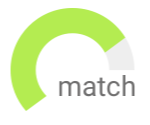 Haven't found the job you are looking for? Use our new smart new Job Match tool to find your next opportunity.
Grow the marketing presence on social media platforms
Drive digital and performance marketing
Be a part of fast growing set-up in fashion jewellery space
Opportunity to work directly with the founders and grow into CXO role
Mumbai City
Permanent
INR4,500,000 - INR6,000,000
is responsible to develop, implement and review the marketing strategies to establish company's product in India in order to attain profitable growth and overall organisational objectives. The incumbent will also be responsible to facilitate and train marketing/ product management and sales team to enable them to efficiently perform their job
An opportunity to head Marketing function for a Life Sciences giant.
An opportunity to manage a large team for a diverse product portfolio
The Marketing Head will bring a focus on brand and portfolio, a strong blend of strategy and execution, as well as an approach that delivers short-term results while building and nurturing the brand for the future.

This role is intended to transform the ability to efficiently scale up brands : convert large but high potential brands into mega brands, and to help new launches rapidly reach peak volume.


Head the Marketing for a leading building material organisation
Lead a growth transformation journey
Overseeing the guest acquisition and retention across all digital channels
Drive building a process and data driven organization
Be the key stakeholder in digital & performance marketing
Leading the marketing function- Marketing and communication strategy, Consumer insights and Branding. Develop marketing plan, initiatives to increase top line and maximize profitability.
HoD position that will lead 4 brands
The most iconic brands in the industry
Opportunity to lead the entire global marketing charter with focus on digital marketing, lead generation / demand generation, PR and global communication.
Opportunity to lead the entire global marketing charter
Be a part of growing IT service provider specialising in cyber security
This role calls for building digital marketing strategy, creating execution plan, defining brand vanity matrix, and choosing the right martech tools.
Lead a team of digital marketers to effectively grow the revenues through strong digital marketing strategies.
Lead the global digital marketing charter for a fast growing consulting firm.
Drive end to end digital strategy and execution to grow revenue streams
12-18 years of Sales experience in Masterbatch / Plastic/ Pigments/ Inks market
Part of a strong business and opportunity to lead a a team of 15+ members
12-18 years of Sales experience in Masterbatch / Plastic/ Pigments/ Inks market
Part of a strong business and opportunity to lead a a team of 15+ members
As a Marketing leader, you will be responsible for telling the world the story of the organisation's product.

Will be responsible in crafting the strategy and ensuring efficiently.


Opportunity ot head the complete Marketing efforts for a fast growing company
Work very closely with the CEO and be part of the leadership team
The Head of Marketing & Growth will be responsible for all aspects of the company's marketing and sales channels including: brand building and content, leading Customer Acquisition/Traffic, Customer Engagement, E-commerce, and Marketing Analytics
Leading key functions of a growth stage organisation
Chance to scale up an org from ground up
Create job alert to receive Marketing Director jobs via email the minute they become available
India
Permanent
INR2,500,000 - INR4,000,000
The role is an exciting mixture of product development and marketing for the B2C side of the business for a fast healthcare firm.
An opportunity to work with one the fastest growing healthcare company in India
An opportunity to lead Product development and marketing (B2C) for the firm