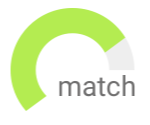 Haven't found the job you are looking for? Use our new smart new Job Match tool to find your next opportunity.
NLP and data-oriented product development (horizontal capability builds) but it will also require strong program management and execution skills
Design competitive AI/ML services and user experience for next generation products and create prototypes for demonstration
Opportunity to work with a big and established organization in the BFSI space
High Growth Opportunity in a Fast Paced Environment
- You will strategically engage with academia and external AI ecosystem to build the company's proficiency in leveraging AI for business value

- You will provide deep technical expertise in AI technologies and influence cross functional teams to build sophisticated AI applications
Working with C level executives
Working on disruptive Data Science projects
Bangalore Urban
Permanent
Mentor people and work together to build the data science team

Handle the projects end to end and mentor the team
Opportunity to be a part of a leading banking setup
Work directly under guidance of functional leadership
Experience with SQL, data visualization tools, and machine learning is Experience with SQL, data visualization tools, and machine learning is a plus.

Strong Statistical skiils
Good Work Culture
Excellent Career Growth Opportunity
Build overall data and analytics ecosystem for Audit domain for repeated use and drives actionable insights
Be responsible for data analysis, development, automation validations for data in and around business domain
Develop predictive analytics solutions and machine learning algorithms to present meaning results
To be part of an organization which is known to be a great place to work
To lead the initiative to build and manage a strategic data environment
Bangalore Urban
Permanent
You will be a Data Scientist to advance our data science & machine learning models in order to extract layers of intelligence from vast quantities of structured and unstructured data ((Patient, Physician, Health Systems, AZ Internal Sales and Marketing Data , Scientific content, Social etc. )
Opportunity to work with a global brand.
Rise to the challenge of shaping future of an evolving business in the techology
As the Head of Data Science for the financial services arm of a leading e-commerce company in the auto industry, you will be responsible for leading, managing, and growing a team of 10 data scientists and machine learning engineers.
Be part of a leading e-commerce company in the auto industry space
Opportunity to work on breakthrough and disruptive projects