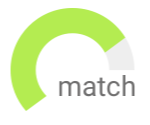 Haven't found the job you are looking for? Use our new smart new Job Match tool to find your next opportunity.
Area Business Manager:
Will be responsible for achieving the targeted sales revenue objectives through the successful implementation of the sales strategy and management of team activities, resources, and outreach. This role is responsible for driving business growth by maintaining strong customer and channel partner relations, mapping account potential, and providing education on product portfolio and overseeing coaching and mentoring their sales team.
Be a part of a global medical devices firm.
Opportunity to work with one of the fastest growing organization in the industry
Kolkata
Permanent
INR1,500,000 - INR2,000,000
To lead Interior fitout projects based out of Kolkata
To work with the fastest growing Office space provider
Lead projects in Kolkata.
The role as a Chief Growth Officer involves managing the business strategy for the India and APAC markets for the company. This role involves a deep understanding of International Business and Exports.
An excellent opportunity to lead a fast growing business
An excellent opportunity to lead a large team
Owning the branding, design, and voice of all creative outputs from website and emails to ads and customer videos, to store VM, windows, and company swag.
To work with one the India's leading organization
Chance to work with a highly growing brand
Heading the entire category for one of the leading Retail Organisation.
Responsible for creating relevant product assortments, sourcing, range & analytics, developing and introducing product ranges that suits the stores and target consumers.
Work closely with senior stakeholders
To work with one the India's leading Retail organization
The Business Head is a critical position in an Omni Channel Startup backed by a leading building materials Group in Kolkata and will be instrumental in working closely with the Founders and other leaders to develop and
drive the vision and growth of the new Omni-channel online platform, catering to both B2C & B2B
clients.
To work with a leading Construction & Building Materials Company in Kolkata
Work closely with the founder and leadership team
<