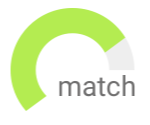 Haven't found the job you are looking for? Use our new smart new Job Match tool to find your next opportunity.
Set up roadmap for the product and and be heavily involved in end to end product journey
Develop and the Vision, Values & Strategic Imperatives for new products
Partner up with technical and business teams to arrive at viable and innovative solutions
Guide design teams and related stakeholders to maximise user experience
Opportunity to drive and develop digital products
Be a part of the aggressive digital journey of a Indian Multinational Company
Building the strategic and marketing plan for the relevant products, ensuring those plans are
implemented and monitored to reach mid to long-term affiliate targets
* With a strong commercial focus, effective development and management of annual promotional
budget, sales forecasting, product inventories forecasting, pricing and collaboration with crossfunctional
teams, training for sales team on product knowledge
Opportunity to work with a leading Japanese MNC serving healthcare industry
Best industry compensation and opportunity to grow exponentially
Looking for candidates for role of BD Manager in a leading API Manufacturing firm in the Sales and Marketing department.
Be a part of a leading API manufacturing firm
Opportunity to work with one of the fastest growing organisation in the industry
Opportunity to work with a Pharmaceutical giant and be a part of their digital transformation journey in the leadership space
Product Lead role involving designing strategic product road maps, product architecture, user experience, product development and technology landscape in collaboration with business teams to develop best in class digital products
Role resides in the Digital transformation CoE of the company
Leadership role residing in the Digital Transformation CoE of the Company
Ownership of product life cycles - Ideation, Planning and Development
Work with leading company in Orthopaedic space

Leadership position, lead a team of 300 people and a business of 200 cr, PAN India role
Work with one of the leading Pharma Brands
Leadership Position
Head the Women health and Wellness portfolio from a Sales and Marketing standpoint
Increase revenue in the vertical
Build the ground team and distribution network
Opportunity to Head the entire business portfolio of Women's health and wellness
Be part of an indigenous and innovative reagent manufacturer in the IVD space
Management Consulting for the MedTech Clients
Engagement manager for clients
Be a part of the largest Healthcare Datascience MNC
Lead the Management consulting for Medtech clients
Management Consulting for the Consumer Health Clients
Engagement manager for clients
Be a part of the largest Healthcare Datascience MNC
Lead the Management consulting for Consumer health clients
Lead the strategies to achieve Commercial Excellence and sustainable financial results
Driving initiatives through the development and implementation of processes and tools of Business Excellence, Sales Force Effectiveness, Training & Coaching, Customer Excellence, and Business Performance Analysis
Be a part of a growing organisation to head the commercial excellence team
Ideate and optimise Sales training, SFE and SFA for the organisation