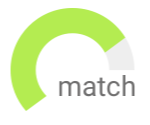 Haven't found the job you are looking for? Use our new smart new Job Match tool to find your next opportunity.
Mumbai Suburban
Permanent
Head of Supply Chain who will transform the existing import heavy supply chain to a mix of Co packer and import based supply chain for a leading FMCG brand.
Only candidates who are currently heading the entire Supply Chain apply
Only candidates who have Imports and Co-Packer mgmt. exp. apply.
You should have 12-15 years of experience. As a head of IT, you will be overlooking 4 main divisions - Infra, Delivery, Application and Operations. You will be directly reporting to the founder & CEO of the organisation.
Global organisation
Tech startup backed by top PE firm
Pune
Permanent
INR5,000,000 - INR7,000,000
Supply Chain Leader for the After Market business of an Auto OEM company
Only candidates in the spare parts market of Auto OEM companies (PV or CV) apply
Only candidates with solid logistics and warehouse management exp. apply