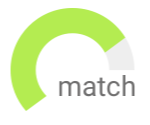 Haven't found the job you are looking for? Use our new smart new Job Match tool to find your next opportunity.
Jamnagar
Permanent
INR4,000,000 - INR5,000,000
Head of Logistics function for Petchem business
Only candidates with logistics exp. of atleast 15 years apply
Only candidates with atleast 3-5 years of exp. in Petrochemical industry apply
Our client is looking to hire a head of logistics who would report into the CEO
Only candidates with 15+ years of experience in wind industry should apply
Only candidates with experience in supply chain should apply
Mumbai City
Permanent
INR4,000,000 - INR6,000,000
To control accounting, financial, and commercial functions of Business Unit . This role reports to BU Head and function reporting to CFO Subcontinent. Preferred candidates from Logistics Sector based in Mumbai City
Good Exposure - will drive the function
Work for a big MNC in Logistics , Good growth prospects
Head of Logistics services business reporting into the CXO
Candidates with extensive big box logistics exp.& overall 8-14 yrs exp. apply
Candidates with MBA in Supply Chain function rom a Tier 1 institute apply
The role will be responsible for driving the entire IT for the organization. As the Technology leader (CTO), you will be responsible for heading the Technology for our client, a pioneer in their space and take care of entire IT Operations, Infrastructure and Applications.
Leadership Role
Immense Growth Opportunity
Heading the national sales of the Fashion vertical for a logistics giant while heading a team taking care of new business development and key account management.
Heading the national sales of the Fashion vertical for a logistics giant
Working neck to neck with some of the top leaders in the logistics industry
You will be a part of the leadership team for the organization's EXIM SaaS business and work directly with core-team to solve business-critical problems and be part of a group responsible for taking the product to SMBs in India, UAE and SEA.
Lead the global supplier relations team for a leading tech logistics firm
Become a part of a high performing team with strong global growth plans