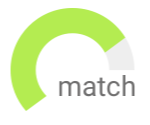 Haven't found the job you are looking for? Use our new smart new Job Match tool to find your next opportunity.
The VP, Engineering &Technology, will prepare, implement and monitor the technology roadmap that addresses the company's business needs, ensure future scalability and also fuels growth
Opportunity to work with established brand
Opportunity to manage large team size
The job is of Head of Engineering which includes Driving Software Engineering Teams (Internals, Vendor Management) across Products in charge of building Consumer Engagement and Traffic capabilities across Web & Mobile multi geographic ecosystem.
Global leading organization
Challenging opportunity
Head the Engineering vertical for the newest innovative venture of an insurance firm. Build, strategize and launch innovative products and services on robust platforms
Head the Engineering vertical for a newly launched venture of an established org
Create products and teams from ground up to strategize market launch
Gurgaon
Permanent
INR8,000,000 - INR9,000,000
Our Client is Looking for a technology leader (CTO), with relevant experience in coding and development of education technology platforms.
Hugh Imapct role
Growth & Learning
Reporting to the CTO, you will be managing a large team of developers. Work closely with other teams and different stakeholders.
Building Indonesia's Digital Financial Literacy
One of the biggest player in Fintech Industry