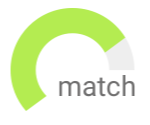 Haven't found the job you are looking for? Use our new smart new Job Match tool to find your next opportunity.
Head Engineering growing Fintech Platform
MNC Digital Bank with Lending Platform
Head Of Engineering
Fintech Product Platform
Head Engineering growing Fintech PlatformMNC Digital Bank with Lending Platform
Head Engineering growing Fintech Platform
MNC Digital Bank with Lending Platform
The role holder will be responsible for leading and building the business support for Procurement working alongside global counterparts.
Experience leading teams in SAP Procurement modules, Ariba is a must
Product driven tech leader mindset
Lead the evolution of our product and technology strategy, along with building a growing team of software engineers. You should be highly motivated and an inquisitive Senior Engineer, with in-depth knowledge of the web ecosystem - from mobile and desktop to the cloud.
Working in an empowered workplace
Competitive Remuneration Package
Chennai
Permanent
Work from Home or Hybrid
As the Head of the Product Engineering Department, you will be responsible for building and delivering great enterprise products and platforms by managing diverse Engineering teams, setting goals, budgets and timelines for various products.
Be a part of the leadership team of a market leading business
Drive a team of high performing individuals to build a high-end product
Build on existing products
Conceptualise and create road map of new products
Opportunity to build products from scratch
Leading ed-tech organisation
Lead all the engineering activities for the plant
Leadership opportunity with focus on people management and technology implementation
Opportunity to lead a team with focus on technology
Responsible for all plant engineering activities
Leadership opportunity in the Mechanical function for the organisation
Manage the mechanical design aspect and support the bidding team
An opportunity to lead the Mechanical function for the organisation
Chance to be an active part of the bidding and design process
The role holder must come with a strong Azure background and would own the SRE and Devops platforms globally
Strong technical understanding of SRE, Devops and Service Engineering
Not looking for pure play operations and support leaders
Create job alert to receive Head Engineering jobs via email the minute they become available
Hiring a head of manufacturing for a global industrial machinery manufacturing company.
Only candidates with experience in industrial machinery manufacturing apply
Only candidates with knowledge of fabrication and machining apply
Experience in digital banking and understands the B2C systems and process for Core Banking/CRM/LMS/Card Host/ Switch
Techno-functional experience in Mobile banking/ATM/Cards/Payment Solutions/UPI/Wallets
Drive the technology for the Bank
Opportunity to work extensively on the Digital Channels
India
Permanent
Work from Home or Hybrid
You will lead the engineering team in alignment with product owners and business analysts for all products. You will be required to translate ideas into strategy and features, and follow product development from start to finish. You will be expected to own the complete engineering roadmap, and align it across multiple stakeholders and manage the team members.


Hiring for leader in advancing health equity through digital care
To be part of a global organistaion
This role will be responsible for provide guidance and direction to operation team, EHS team & top management to upgrade system, process, technology & information about EHS
Only candidates with experience in both core and project EHS should apply
Only candidates with 15+ years of experience in EPC, Oil and gas, and P&C apply
Our client is a top player in the engineering industry. The role involves working with senior leaders and an opportunity to learn and grow in a fast-paced environment
Opportunity to work with a leading company in the Manufacturing/Engg. sector
Steer the TA function strategically with the top leadership in a fast-paced firm
A leadership opportunity in Manufacturing Engineering for a leading Multi-National OEM with multiple manufacturing plants in the India region among other countries
Work towards implementing industry best practices and assisting the manufacturing function
An opportunity to work in a leadership role with a Global MNC OEM
An opportunity to head the Manufacturing Engineering Department
Looking to hire Project Logistics lead responsible from conception to execution within time frame. Experience in multi modal logistics with heavy equipment will be preferred
Only Candidates with 18 + years of experience in Multimodal Logistics
Candidates with experience in Oil & Gas, Heavy Capital Equipment/Machinery etc
The job is to head engineering vertical for Gurgaon region
Opportunity to work with established brand
Opportunity to work with cofounders
International
Permanent
INR5,000,000 - INR7,000,000 per year
Plant head to manage Production, Engineering, Process Engineering, Quality, Materials and Finance & HR functions.
Only candidates who are currently managing the entire plant ops. apply
Only candidates who are 15+ years of experience in chemical industry apply
Delhi
Permanent
INR4,000,000 - INR5,000,000 per year
Senior P/L head role in a fast growing Japanese engineering MNC with extensive team management exposure reporting directly to the Country head
Senior P/L head role in a fast growing the Country engineering companies company
Team management role reporting to
Create job alert to receive Head Engineering jobs via email the minute they become available