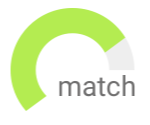 Haven't found the job you are looking for? Use our new smart new Job Match tool to find your next opportunity.
Responsible for working with all the stakeholders like engineering, product, and business teams to ensure that the user experience is great when users interact with our product.
Strategic and technical role to create a balance of understanding consumer behaviour and then providing technical solutions to better the experience of the users on the product.
Opportunity to drive the design of the product
Work with one of the most collaborative and young team
Lead and help product teams to create products that deliver the best value to the consumers and the business
Dynamic individual should be able to work democratically well with the peers, senior stakeholders and the team to create the most innovative products
Opportunity to drive the product end-to-end for the organization
Work with one of the most collaborative and young team
Hands-on Technology Leader with experience in working on B2C Products
Dynamic individual should be able to work democratically well with the peers, senior stakeholders and the team
Opportunity to drive the engineering side of the product
Work with one of the most collaborative and young team
Mumbai City
Permanent
Work from Home or Hybrid
- Develop expertise in area of work, maintain relationships with existing clients, cater to the specific hiring requirements of functional managers/ CFO/ CEO's
- Acquire and develop your own portfolio of clients and candidates through networking and commercial actions within the assigned sector - Banks, NBFCs/ HFCs, Fintechs, Private equity/ Venture Capital/ Asset Management / Payment Services/ Consulting firms, Rating agencies


Meritocratic growth, flexible working, unlimited growth potential
Passionate about customer service, add value to an organization's growth path