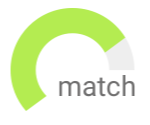 Haven't found the job you are looking for? Use our new smart new Job Match tool to find your next opportunity.
As the Finance Head, you will be leading the finance function for a new age start up reporting into the founders. The role requires you to build the team and provide strategic leadership to the organisation
To lead the finance function for a fast growing start up
Opportunity to be part of the leadership team of a well funded start up
Mumbai City
Permanent
INR5,000,000 - INR5,001,000
Manage the P&L, balance sheet, working capital, and overall reporting and control processes, as well as be responsible for controls audit, financial planning and analysis, tax, treasury, and accounting.
Develop financial business plans and forecasts
Opportunity to work with Business Head of Express and 3PL
Opportunity to work with a growing logistics organization
Gurgaon
Permanent
INR9,000,000 - INR9,001,000
The chosen candidate will be responsible for taking on a leadership role in financial decision-making that affects our company, and will provide strategic financial input to senior management. While keenly overseeing the overall accounting process, the successful CFO will play a key role in developing and implementing financial procedures to improve and maintain the financial health of our firm.
Meritocratic Culture
Wealth Creation Opportunity
Bangalore Urban
Permanent
Reporting onto the founders, you will be responsible for :
Building the finance function and scaling up the business
Lead the fund raising initiatives for the organisation
Be strategic partner to the founders
Managing planning, taxation, investor relations and compliance
High growth opportunity at a well funded fintech startup
Opportunity to work with prominent investors and founders