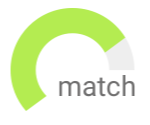 Haven't found the job you are looking for? Use our new smart new Job Match tool to find your next opportunity.
* Excellent interpersonal, strong communication and writing / editorial skills
* Strong analyticalanalytical and business analysis skills (brainstorming, mind-mapping, root cause analysis)
Remote work
Complete work from home & Full time employee on payroll of MichaelPage
Take ownership of e-solutions projects end to end as business analyst

Drive execution of IT Enterprise Application strategy with regional and global stakeholders


Drive execution of IT Enterprise Application strategy
Work across multiple geographies in Europe and Asia
The basic responsibility of Accounts Receivable- Manager would be:-
Ensuring timely and effective collections of outstanding dues and meeting agreed KPI's
Managing the accounts receivable team in alignment with BA goal
Team engagement and stakeholder management
Opportunity to work with world's leading container shipping company
Good Work Culture
India
Permanent
Work from Home or Hybrid
You will lead the engineering team in alignment with product owners and business analysts for all products. You will be required to translate ideas into strategy and features, and follow product development from start to finish. You will be expected to own the complete engineering roadmap, and align it across multiple stakeholders and manage the team members.


Hiring for leader in advancing health equity through digital care
To be part of a global organistaion
This is a National Sales Head role for a personal care portfolio to handle GT, MT and BA verticals.
1. To work in a leading Indian organization
2. Be at the front of building on the growth and visibility for the business
Bangalore Urban
Permanent
Build systems that collect, manage, and convert raw data into usable information for data scientists and business analysts to interpret. Their ultimate goal is to make data accessible so that organizations can use it to evaluate and optimize their performance.
Work with specialists skills range from mathematics to computation.
Rise to the challenge of shaping the future of an evolving business in the tech.
You will be part of our product engineer team and work in multidisciplinary agile teams including product owners, QA engineers, UX designers and business analysts. We want you to help us accelerate the growth of our Java capability.
Top Leading Consulting Firm
New Product Development Opportunity
Our mission is always to be student-first. We are seeking a person to join our tech team to prepare technical designs and interface specifications based on the business requirements provided by architects and business analysts. The primary responsibility includes simplifying complex business problems.
*Be a part of the leadership team of a fast-growing Series A start-up
*ESOPs and compensation way above the market for unparalleled wealth creation
Our client is looking for an Analytics Head where the candidate will be managing a team of business/data analysts responsible for driving data backed business decisions through deep analysis and insights/model generation. They will be closely working with leaders across Product, Business, Marketing etc.
High Growth Opportunity in a Fast Paced Environment
Opportunity to shape and implement Advanced Analytics Strategies of the Company
Pune
Permanent
INR28 - INR30 per year
Financial Planning and Analysis - Senior Analyst, Pharmaceuticals, Pune

Business Partner for Onshore Finance/Operations regional leadership team, member of Pune FP&A leadership team.

Support regional/segment/country leaders by developing CoE models and process champions by functional areas within Pune FP&A team.
An opportunity to work for a leading and growing MNC
Opportunity to further your career in a fast-paced global environment
Create job alert to receive Business Analyst jobs via email the minute they become available