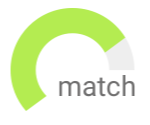 Haven't found the job you are looking for? Use our new smart new Job Match tool to find your next opportunity.
It is a business strategist and analyst role that would report directly into the CEO
To work in a fast paced environment that leads to quick growth for performers
To work directly with the primary stakeholders within the organization
Ability to convert a complex data set into an actionable recommendation.

Ability to gather market insights for the BFSI vertical including competition analysis, secondary research and business intelligence.
Fast paced organization
National brand in the media space
Our client is one of the leading building materials companies with a strong national and international footprint.


*Opportunity to work with a Global organization
*Work closely with senior stakeholders & Leadership team
As a Business Analyst, the incumbent will have end-to-end responsibility for understanding and delivering automated digital journey of customer on boarding, customer KYC, customer registration, customer management and retention process.
Senior level of leadership and high ownership.
Opportunity to be associated with a high growth MNC.
Manage business needs and map them to capabilities within the BI domain
Understand and deliver automated digital KPI and reports of the business
Senior level role with high accountability and ownership
Opportunity to work with a high growth MNC
Deputy General Manager (DGM) will be responsible for understanding and delivering projects in the area of the payment/transaction gateway of our client. Implementation of various projects from the scratch and working very closely with global stakeholders.


Leadership position
Providing Techno-functional expertise to bridge the gap
Gurgaon
Permanent
INR4,500,000 - INR5,000,000
Accountable for Heading the IT ERP large business critical applications.Will be responsible build the enterprise application strategy, implementation of projects, ensure change management, testing management and communications management for the projects to deliver the business results.
Exciting career growth
Leadership role