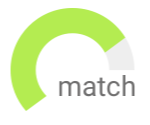 Haven't found the job you are looking for? Use our new smart new Job Match tool to find your next opportunity.
Support and Execute Business Analyst activities in coordinating and driving IT Implementation, including User acceptance Testing
Survey, Analyse and evaluate processes, products and services
Fast track growth & PnL ownership
Handling multiple clients
India
Temporary
Work from Home or Hybrid
Business Analyst with 10+ years of experience
Must be in pro-active in taking initiatives.
Experience in Agile methodologies
Business Analyst with software development background
Permanent work from home
India
Temporary
Work from Home or Hybrid
10+ Yrs of experience in Business Analysis
Heavliy involved in client meeting, stakeholder management & market research
10+ Years of experience in Business Analysis
Permanent work from home
Business Data Analyst with overall 7 years of experience and 5+ years of experience in Python and SQL
5+ Yrs of experience in Python & SQL
Good experience in Data Modelling
Bangalore Urban
Permanent
1. Design and accompany the management process of goal-finding, financial planning and controlling

2. Co-responsible for reaching the business objectives along with Business Area (BA)/Business Line (BL) Manager.
To be a part of fast growth and meritorious environment
Opportunity to work closely with the top management leaders
The basic responsibility of Accounts Receivable- Manager would be:-
Ensuring timely and effective collections of outstanding dues and meeting agreed KPI's
Managing the accounts receivable team in alignment with BA goal
Team engagement and stakeholder management
Opportunity to work with world's leading container shipping company
Good Work Culture
India
Permanent
Work from Home or Hybrid
You will lead the engineering team in alignment with product owners and business analysts for all products. You will be required to translate ideas into strategy and features, and follow product development from start to finish. You will be expected to own the complete engineering roadmap, and align it across multiple stakeholders and manage the team members.


Hiring for leader in advancing health equity through digital care
To be part of a global organistaion