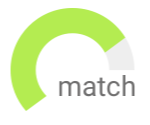 Haven't found the job you are looking for? Use our new smart new Job Match tool to find your next opportunity.
12-18 years of Sales experience in Masterbatch / Plastic/ Pigments/ Inks market
Part of a strong business and opportunity to lead a a team of 15+ members
12-18 years of Sales experience in Masterbatch / Plastic/ Pigments/ Inks market
Part of a strong business and opportunity to lead a a team of 15+ members
This is the first marketing hire for the organisation, working directly with the co founder
Candidate should come with a strong background in Product marketing and content creation
5- 10 years of experience managing product marketing function for SaaS products
Be a part of the founding team of one of the most promising tech startups
As a Marketing leader, you will be responsible for telling the world the story of the organisation's product.

Will be responsible in crafting the strategy and ensuring efficiently.


Opportunity ot head the complete Marketing efforts for a fast growing company
Work very closely with the CEO and be part of the leadership team
Bangalore Urban
Permanent
A senior role to lead performance marketing initiatives and develop user acquisition strategies for the client.
Lead Performance marketing initiatives for one of the most fast moving startups.
Leaders in the gaming industry.
Lead the digital marketing agenda end to end for one of the largest organisation in the Health care provider space
Excellent opportunity to drive digital agenda end to end
Work with market leader in Healthcare Provider space
Bangalore Urban
Permanent
Be the first marketing leadership hire and work directly with the founders for ensuring a healthy revenue pipeline
Build the demand generation engine in lines with the organisation goals
Be a part of a category creator
Build the entire marketing engine from scratch for global charters
The Head of Marketing & Growth will be responsible for all aspects of the company's marketing and sales channels including: brand building and content, leading Customer Acquisition/Traffic, Customer Engagement, E-commerce, and Marketing Analytics
Leading key functions of a growth stage organisation
Chance to scale up an org from ground up
Bangalore Urban
Permanent
INR4,000,000 - INR6,000,000
Reporting to the CEO, the Marketing Head will:
Plan and execute a marketing strategy for the organization and for new and existing products
Lead the in-house teams across key channels like SEO, PPC, Affiliates and Performance Partnerships, Digital Media (Paid Social, Display, Programmatic, & Video), Conversion Marketing (primarily email & SMS), Mobile Apps , Facebook & Google channels
An opportunity to work with a fast growing Health and Wellness company
An opportunity to head Marketing function for NSE listed firm
Bangalore Urban
Permanent
To develop and manage marketing programs to support business objectives, foster customer retention, execute business development, and advance brand building.
Role encompassing India, Singapore and the Dubai market
Broad coverage of wealth and asset management businesses
Bangalore Urban
Permanent
Our client is looking for a stellar marketeer to lead the global marketing function for the company.
Opportunity to lead the Marketing function
Work directly with the founders
Create job alert to receive Marketing Director jobs via email the minute they become available
India
Permanent
INR2,500,000 - INR4,000,000
The role is an exciting mixture of product development and marketing for the B2C side of the business for a fast healthcare firm.
An opportunity to work with one the fastest growing healthcare company in India
An opportunity to lead Product development and marketing (B2C) for the firm
The Head of Marketing will be a part of the core team. She/He will be responsible for helping achieve the vision of the company by devising the overall marketing and user acquisition strategies for India and global markets


A chance to work with a rapidly scaling start-up
A chance to be a part of the leadership team