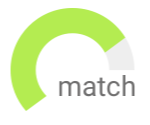 Haven't found the job you are looking for? Use our new smart new Job Match tool to find your next opportunity.
You own the commercialization strategy and implementation plan for the Point of Care & Bio-Industry. At the same time you are supporting other commercial & enabling functions to deliver on its overarching priorities

This position will be responsible for giving strategic directions to POC & BI team, driving strategic projects and ensuring talent & succession development, stakeholder management
Great Culture
Amazing Perks, exponential growth
If you are passionate about Data Science to drive innovation, to build solutions and technologies. And if you would like to bring about a strong sense partnership and collaboration then this is the job for you. This is an opportunity to develop and deliver groundbreaking solutions by using the power of data and digital.
Opportunity to be a part of the Innovation labs
Opportunity to be a part of a Global Organisation
Excellent opportunity to launch a brand on the digital marketing platform for a leading organisation in the health & wellness segment.
Excellent opportunity to work with the leadership directly
Lead the entire digital marketing function end to end