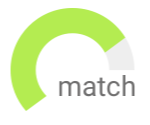 Haven't found the job you are looking for? Use our new smart new Job Match tool to find your next opportunity.
Obtaining and maintaining (hunting and farming) long term key customers by comprehending their requirements.
An opportunity to work with a market leading Medical Devices manufacturer
An opportunity to manage relations with most important customers
Delhi
Permanent
INR2,500,000 - INR3,000,000
Develop and manage domestic and international Corporate Accounts for a Global leader in Reproductive Medicine


An opportunity to work with a global leader in Reproductive Medicine
An opportunity to lead Sales for a globally renowned brand entering India
Excellent opportunity to work in a leadership business development role for handling domestic clients
Execellent opportunity to work with market leaders in nutraceuticals space
Work in a ledaership role with the management
Delhi
Permanent
INR2,000,000 - INR3,000,000
The Medico Marketing Manager is responsible for collaborating with cross-functional stake holders to define, develop and execute marketing strategies and tactics for specified product segment to help achieve revenue and profit expectations. Would work in collaboration with the Sales & Marketing team;
An opportunity to lead a 4 member clinical marketing team
An opportunity to work with a leading Indian Medical Device Company
Delhi
Permanent
INR2,000,000 - INR2,500,000
The incumbent will be responsible for handling all aspects of Medical Affairs for North and West India across all portfolios for the organisation.
An opportunity to work with one of the fastest growing MedTech organisations
An opportunity to work with a market leader in their segment
Excellent opportunity to work with growing medical devices company with Indian as well as international presence
Excellent opportunity to work with growing med devices company
Lead the medico marketing function end to end
Reporting to the Co-Founder this person will lead all new business development initiatives along with his/her team and peers.

People Manager role with 4 DR's


An opportunity to work with a fast growing firm backed by recent investment
An opportunity to head the Sales function for a rapidly expanding firm