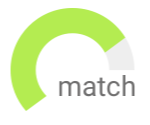 Haven't found the job you are looking for? Use our new smart new Job Match tool to find your next opportunity.
Develop and implement digital strategy. This role involves closely working with Country Marketing, APAC Marketing and Digital Marketing agency.

Key Responsibilities include:
* Digital Marketing Strategy - Social Media / SEO / SEM
* Content Marketing
* Campaign Management
* Agency Management
Opportunity to work with a Global MNC in Medical Devices
Best in industry pay
Plan, Manage and Optimize Brand Visibility across various Digital Platforms.
Strengthen and evolve digital marketing roadmap for products and brands, overall create and implement lead generation campaigns for relevant TG to meet lead targets for organization products and brands.
Opportunity to work in a fast growing firm
Opportunity to work in a renowned brand
This is a digital marketing manager role in a globally renowned FMCG organization. The incumbent in the role is responsible for the development and implementation of digital strategies to enhance brand awareness, build visibility and salience.


An exciting opportunity to work in globally recognized and leading FMCG brand
An avenue to work with cross functional teams in a fast-growing organization
Bangalore Urban
Permanent
Leading Digital Marketing & Strategy Team for multiple healthcare brands


Leading a team for efficient Google Analytics, SEO, SEM


Be a part of the leadership team of a growing Healthcare company
High visibility role in a growing industry
Excellent opportunity to work with a market leader in health & wellness space to build & transform the digital marketing space of the company
Excellent opportunity to work with a market leader
Work directly with the leadership of the company
To inform the EMEA central team of local market needs and activate and implement the EMEA go-to-market strategy for all product categories in the local market to support local growth in line with overall business objectives.
To work with one the India's leading organization
To work with senior stakeholders
Excellent opportunity to launch a brand on the digital marketing platform for a leading organisation in the health & wellness segment.
Excellent opportunity to work with the leadership directly
Lead the entire digital marketing function end to end
Work with Marketing Services team in the Capability Hubs for a global leading management consulting firm. The role involves leading a team and execute all digital marketing activities including SEO/SEM, marketing database, email, social media, marketing automation, and website management.
Implementing digital marketing strategies for international markets/ clients
Honing team handling experience with a focus on technical/ strategic expertise
Lead the digital marketing agenda end to end for one of the largest organisation in the Health care provider space
Excellent opportunity to drive digital agenda end to end
Work with market leader in Healthcare Provider space
Excellent opportunity to work in an impactful Digital marketing role
Excellent opportunity to work in pivotal role
Be a part of the growing organisation in nutrition sector