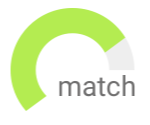 Haven't found the job you are looking for? Use our new smart new Job Match tool to find your next opportunity.
Plan, Manage and Optimize Brand Visibility across various Digital Platforms.
Strengthen and evolve digital marketing roadmap for products and brands, overall create and implement lead generation campaigns for relevant TG to meet lead targets for organization products and brands.
Opportunity to work in a fast growing firm
Opportunity to work in a renowned brand
Bangalore Urban
Permanent
Work with the Co-founder directly and independently manage the Marketing portfolio of the company through Digital channels.
Emerging D2C brand with a global footprint and a strong backing
High pedigree team to work with and strong mentorship
Bangalore Urban
Permanent
Responsible for developing, implementing and managing marketing campaigns that promote the organisation and its products/services.Enhancing brand awareness within the digital space as well as driving website traffic and acquiring leads/customers.
Opportunity to build digital makreting framework
Opportunity to work with young tech leaders in a strategic role
Bangalore Urban
Permanent
The role entails handling the entire online presence of the brand which includes the website management, digital marketing , performance marketing and ecommerce.
An excellent opportunity to be a part of a growing brand
An opportunity to be in a well recognized organisation
Excellent opportunity to work with a market leader in health & wellness space to build & transform the digital marketing space of the company
Excellent opportunity to work with a market leader
Work directly with the leadership of the company
The role involves managing the digital platforms , digital strategy, e- commerce platforms and digital communications for all the brands for the company to provide a better consumer experience.
An excellent opportunity to be a part of a global FMCG company
An excellent opportunity to work on global brands in a challenging role
Excellent opportunity to work in an impactful Digital marketing role
Excellent opportunity to work in pivotal role
Be a part of the growing organisation in nutrition sector
Build marketing from scratch working directly with promoters

Work with a fast growing diversified group in building material
Work with a fast growing diversified group in building material
Build marketing from stratch working directly with promoters