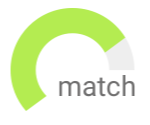 Haven't found the job you are looking for? Use our new smart new Job Match tool to find your next opportunity.
1) Lead the digital marketing vertical

2) Design and execute digital marketing strategy
Be part of high growth environment and lead the team of managers and executive
Closely work with the leadership to drive the business and marketing strategy
Bangalore Urban
Permanent
Lead the B2B performance marketing campaigns for the organisation.
Work on strategy and execution for company's acquisition channel across all the major platforms and aggressively grow the outbound lead generation pipeline.
Lead the digital marketing engine in a fast growing fintech.
Competitive salary with other employment perks.
Mumbai City
Permanent
INR3,000,000 - INR5,000,000 per year
Strong digital marketing background with understand of brand marketing and budgeting (P&L management experience is a plus)
Managing 9 member team under 2 direct reports (1 Marketing Manager and 1 Digital Lead)
Will be responsible for annual marketing spends of INR 50 Lakhs to 1.5 Crore
Understanding of pharma / med-device
Looking at healthcare / health-tech background
Opportunity to lead the entire marketing function
Opportunity to become a critical business leader