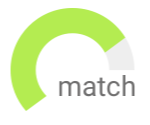 Haven't found the job you are looking for? Use our new smart new Job Match tool to find your next opportunity.
Our client is a leading online employment marketplace, part of a Stock Exchange-listed company. As a Digital Marketing Manager, you will promotes the organization's products, services, brands, and/or the organization through various digital marketing channels and buying methods to ensure deliver exceptional results.
Part of Stock Exchange-listed company
Leading a team
Develop and implement digital strategy. This role involves closely working with Country Marketing, APAC Marketing and Digital Marketing agency.

Key Responsibilities include:
* Digital Marketing Strategy - Social Media / SEO / SEM
* Content Marketing
* Campaign Management
* Agency Management
Opportunity to work with a Global MNC in Medical Devices
Best in industry pay
Excellent opportunity to launch a brand on the digital marketing platform for a leading organisation in the health & wellness segment.
Excellent opportunity to work with the leadership directly
Lead the entire digital marketing function end to end
Work with Marketing Services team in the Capability Hubs for a global leading management consulting firm. The role involves leading a team and execute all digital marketing activities including SEO/SEM, marketing database, email, social media, marketing automation, and website management.
Implementing digital marketing strategies for international markets/ clients
Honing team handling experience with a focus on technical/ strategic expertise
Lead the digital marketing team with the leadership in a fast-paced organisation with huge growth plans
Opportunity to work in a fast paced environment
Lead the marketing and own the P&L
Mumbai City
Permanent
INR3,000,000 - INR5,000,000
Strong digital marketing background with understand of brand marketing and budgeting (P&L management experience is a plus)
Managing 9 member team under 2 direct reports (1 Marketing Manager and 1 Digital Lead)
Will be responsible for annual marketing spends of INR 50 Lakhs to 1.5 Crore
Understanding of pharma / med-device
Looking at healthcare / health-tech background
Opportunity to lead the entire marketing function
Opportunity to become a critical business leader