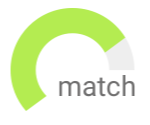 Haven't found the job you are looking for? Use our new smart new Job Match tool to find your next opportunity.
We are looking for DevOps Lead & Engineer with min 5 Year of experinece .

For Lead must have min 8 year of experience .

Must be proficient enough in all the core principle of DevOps.
Remote work
Complete work from home & Full time employee on payroll of MichaelPage
DevOps Manager will deliver live operations of business data lake, underpinned by cutting-edge technology such as MS Azure PaaS, across business functions. Devops Manager will ensure data lake BAU service and enhancements delivery objectives are met; resulting in analytics and insights that drive Unilever's growth.
Join a business empowering people with data & technology
Be part of and exciting and evolving Data & Analytics journey
Candidate will help team establish, grow and optimize DevOps practices. He/she will be working closely with technical leads and development teams on their cloud infra requirements, identify and troubleshoot issues and share recommendations on cloud best practices
Opportunity to work for a NeoBanking platform
Working closely with technical leads
Looking to hire a Engineering Lead, DevOps from NBFC background with good expertise at DevOps tools and architecture.
Looking to hire a Sr. DevOps Engineer from NBFC background with experience of working on latest DevOps tools and architecture.
Part of cloud team - working to continuously advance and standardise our clients infrastructure and deployments, whilst collaborating with colleagues to write infrastructure as code that scales and takes advantage of the technologies used.
MNC Organization
Attractive compensation
Flexibity of permanent Work from Home

Insurance coverage of INR 10 Lacs and above

Social Benefits of Provident Fund and Gratuity
Permanent WFH and Social Benefits
Azure DevOps, Kubernetes,Git,Docker
The SDM is responsible for ensuring end-to-end Availability, Reliability, Maintainability and Serviceability of the IT provided systems and services. Ensuring that all activities are carried out and completed in accordance with the Information Security Policy and Standards Framework.
Join a business empowering people with data & technology
Be part of and exciting and evolving Data & Analytics journey
Work with the largest social gaming and entertainment platform in India.

Get complete ownership of the product and a chance to conceptualise and implement your solutions.
Oppo to work with largest social gaming and entertainment platform in India
Get complete ownership of product and a chance to conceptualize your solutions
We are hiring for a technology leader with expertise in cloud engineering. As part of our Cloud Engineering practice in CIO Advisory, you will lead development of cloud solutions for Fortune 500 clients. Hands on experience on DevOps tools is a must.
MNC Organization
Leadership role
Create job alert to receive Devops jobs via email the minute they become available
looking for a hands-on technologist to streamline & setup Dev Ops, Prod Ops & Cloud Engineering functions. You should be very hands on and have vision for these functions. Initially you will be setting up foundation, architecture, and processes by yourself and with the help of couple of resources. Later you will position leads to manage and drive individual functions like DevOps, Prod Ops, Cloud engineering and Info Sec.
Opportunity to work with new-age contextual microinsurance products firm
Best work environments with unlimited & fast-track growth opportunities.
Bangalore Urban
Permanent
DevOps team to improve productivity of software engineering teams by setting up end to end processes and tools.Ideal candidate should be passionate for technology and hands on with tools, networks ,platforms, servers, databases and support.

Team members must be comfortable with ambiguity and up for new learning in terms of tools and technologies.
Candidate must have strong understanding of SDLC and Automation tools
Hands-on experience in developing CI/CD pipelines using Jenkins
The role needs to transform, design and build automation for enterprise grade applications with a strong understanding of automation principles across the enterprise stack.
Opportunity to be part of a leading Indian MNC
Leadership opportunity with high accountability