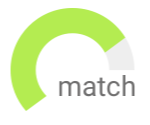 Haven't found the job you are looking for? Use our new smart new Job Match tool to find your next opportunity.
Formulate the overall strategy for collaboration with product managers, industry technical experts, market analysts to develop understanding of the market trends, customer activity and competitor activity.
Establish sales targets for existing customers, new customers, existing markets, new markets, existing products and new products while leading the reports to achieve these targets.
Opportunity to work with a leading scientific machinery manufacturing MNC.
Pan India leadership role
International
Permanent
INR14,128,950 - INR16,486,130
As Country Manager you will be responsible for the overall sales and marketing, customer satisfaction, strategic and operational performance of the company's operations in Thailand

Building/Using network of CIO's across Enterprises driving continuous growth and performance
Lead Sales, marketing, strategy, operations
Report to the CEO
Bangalore Urban
Permanent
Our client is looking for a leader to head the India market.
To lead the India territory
Be a part of the senior leadership
To inform the EMEA central team of local market needs and activate and implement the EMEA go-to-market strategy for all product categories in the local market to support local growth in line with overall business objectives.
To work with one the India's leading organization
To work with senior stakeholders