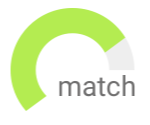 Haven't found the job you are looking for? Use our new smart new Job Match tool to find your next opportunity.
Candidates who have worked with NBFC-MFI/ MFI/BANK at Middle and Senior level Position
Candidates from BFSI, MFI, NBFC background
Willing to relocate to Varanasi
As a VP Engineering, you will own the technology vision and define / execute on the product roadmap. You will lead the engineering team along with product to realise the product development. You will enable growth of the company through innovative technology interventions.
Opportunity to be part of a leading global setup
Opportunity to work closely with technology and business
Bangalore Urban
Permanent
The role holder will be responsible for growing the software engineering capability of the organisation
The role holder will be responsible for creating and executing roadmaps for customer oriented digital products
15+ years of experience in Software Development and Cloud technologies
Strong experience in building teams from scratch
Overseeing all technology operations and evaluating them according to established goals.
Devising and establishing IT policies and systems to support the implementation of strategies set by upper management.
Be a part of the technology team of a fast-growing organization
Phenomenal work environment, with massive ownership and excellent growth
Mumbai City
Permanent
INR10,000,000 - INR20,000,000 per year
Work from Home or Hybrid
1. Lead the entire technology landscape of the product responsible for backend, frontend, infrastructure, architecture, scalability, server-side engineering, UI and all other technical aspects of the product in line with the company's strategy

2. Develop a technology roadmap and be thoroughly involved in the strategy for growth of product globally

3. Interact with bureaucrats and government authorities for penetration across the country
Opportunity to lead Technology landscape of a fast growing EdTech product
Opportunity to be a key stakeholder in the business and grow into a global
Experience in digital banking and understands the B2C systems and process for Core Banking/CRM/LMS/Card Host/ Switch
Techno-functional experience in Mobile banking/ATM/Cards/Payment Solutions/UPI/Wallets
Drive the technology for the Bank
Opportunity to work extensively on the Digital Channels
Opportunity to design and implement the full Digital transformation life-cycle: work closely with internal and external stakeholders to build instrumentation and define dimensional models, tables or schemas and form the basis for our business decisions
Opportunity to be part of a leading FMCG setup
Opportunity to work closely with technology and Business
Career Growth
Leadership opportunity
Opportunity to design and implement the full Digital transformation life-cycle: work closely with internal and external stakeholders to build instrumentation and define dimensional models, tables or schemas and form the basis for our business decisions
Be a part of an upcoming technology hub
Opportunity to work closely with technology and Business
Job is to head engg team of 60 people & reporting is to one of the cofounder
Opportunity to work with fast paced startup
Opportunity to build large team
Create job alert to receive Cio jobs via email the minute they become available
to scale the POS financing software for the company
Opportunity to work with a growing fast track startup
Opportunity to work with CXOs